Bio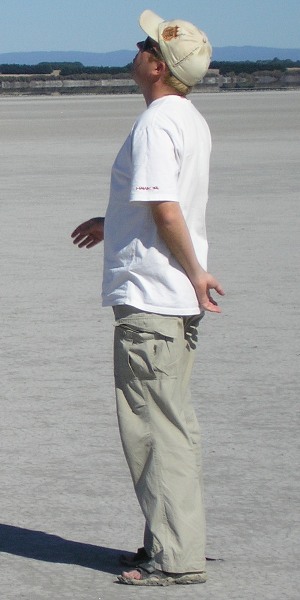 Music Resume
Background:
Baz Bardoe has been making and releasing music since the mid 1990's under a variety of production aliases, the most recent being Sunsaria. He has played hundreds of gigs and festivals, and achieved extensive global radio play. He has had many positive reviews for releases, and a number of chart placings and other accolades. His music has also been used on mainstream television programs, film and advertising. Performance and production credits include work with a range of local and international artists.
Releases:
He has released five full length albums, 3 EP's and  appeared on dozens of compilations across the world. His  music has now been released on a wide range of international and local record labels including Cosmic Leaf (Greece), Chillosophy (Sweden), Nova Tekk (Germany), Invisible (USA), Matsuri (UK) and Clan Analogue, Creative Vibes, EMI and JJJ/ABC. His music has been used on a film soundtrack, television advertisement, and as incidental music for television programs Sports Tonight and Quantum.
Highlights include:
Albums:
(As Ragewar.)
Backlash. Shock Records. 1996.
(As URB)
They come for the Beats. Angel's Trumpet/Shock. 1998
(As Psyburbia)
Carmageddon. Matsuri Productions (UK). 1999
Groove Invaders. Creative Vibes. 2002
(As Sunsaria)
Australien. Invisible Records (USA). 2010
Blue Dreaming. New World Music. 2011
Solis. New World Music. 2013
Selected Compilations:
Professional Test Record (Black Hole, 1997);
Hempsense (1999);
Tweak (JJJ/EMI, 1999);
Earthcore (1999);
Sunblock (Shock, 1999);
Dirty Week (2000);
Impact (Creative Vibes, 2000);
Nighflight, (Nova Tekk, 2000);
In Version, (Clan Analogue, 2005);
Defining Moments (Chillosophy, 2006);
Nova Natura (Cosmic Leaf, 2006);
Global Slowdown (Tempest, 2006);
Chill Out Vol. 1 (RMG, 2008);
Mystical Fantasies (RMG, 2009);
Massage, (RMG, 2011);
Love Café, (RMG, 2012).
Performances:
He has undertaken hundreds of live performances. Most of these were earlier in his career as he now favours studio production work. Venues have included Hi Fi, Punters Club (RIP), Corner Hotel, Prince of Wales, Esplanade, Loop, Metro and many more. Festivals have included Offshore, Big Day Out, Falls, Earthcore, Rainbow Serpent Festival, Nocturnal and Massive (NZ).
As Ragewar
(Industrial music – toured regularly 1996- 1998)
Abyss. (Headlining) 27th April, 1996.
Oxide. 17th November, 1996.
Hybrid. (Headlining) 28th September, 1997.
Ministry of Sound. (Headling/EP launch). 27th July 1997.
As URB
(Chillout electronica – toured regularly between 1998 – 1999):
Mind-A-Maze – Fringe festival shutdown party. 17th October 1998
Earthcore NYE. 19981999.
Reclaim the Streets. 13th March, 1999.
Double Dis-Solution (with Circus Oz). 5th August, 1999.
Cyber Trek 4 – Big Top stage. 8th December 1999.
As Psyburbia
(Chillout, breakbeat and techno – toured regularly between 1999 – 2002, occasional gigs thereafter. In house DJ at Nocturnal club night);
Every Picture Tells a Story  24th July, 1999
The Falls Festival NYE. 1999/2000
Big Day Out. 2000
Nocturnal. (Headlining) 29th January, 2000
Offshore Festival – Big Top stage. 22-24th April 2000.
Coastal Beats 2. (Headlining). 4th December, 2000.
Shiva's Reign (Headlining).  17th November 2002.
Global Slowdown (Headlining) 11th June, 2007.
As Sunsaria
(Chillout, dub and ambient music – infrequent live shows. In house DJ at Glitch)
Terra 9, 24th January, 2009.
Banco De Gaia . 18th November, 2011
Film:
'This Sacred Earth: The 2012 Phenomenon. (2009) Wild Pure Heart.
Television:
Sports Tonight (Channel 9), Quantum (ABC), Rage (ABC), Alchemy (SBS) Core (Channel 31), Chill TV (Channel 31).
Advertising (TV)
Queenscliff regional tourism. 'Life is a dream' from the album 'Australien'.
Interviews/reviews:
He has been interviewed and reviewed by a range of publications including features in The Age, Beat, InPress, Geelong Advertiser, On The Street, HM, Rebel Razor, City Weekly, Freeze (Greece), Hardwired (UK), URB (USA), InnerSpace (Scotland), Wax (UK), VVE Weekly (Canada), Sound Barrier (Belgium) and many more.
'A mesmerising and promising debut….'  – InPress 1998
'…..great outdoor party feel…nicely done!' –  URB ( USA) 1999
'This really is the shit – going from mellow chilled material to full on breakbeat techno madness. If you're a chemical beat fan or a techno head you really should check this out!'  – Inner Space (Scotland) 1999
'Very solid….Psyburbia is truly an electronic act that expands the consciousness' – VVE Weekly(Canada) 1999
'A dancefloor magnet….if our task were to build a decent DJ set this one would be featured….' – Sonic Barrier (Belgium) 1999
"Psyburbia has enjoyed plenty of local success. Highlights include reaching number five on the SBS TV show 'Alchemy' chart and number five on the Australian MP3 chart, being included on JJJ's 'Tweak compilation, and being handed the entire three hours of JJJ's 'Mix Up' program…..Psyburbia's profile is even higher in Europe….the debut album sold out and won rave reviews in overseas music magazines such as 'Wax' and 'Hardwired'…' The Age 2000
"A classic sound healing album" – Nexus 2009
'Mindblowing…..' PsyMania, 2010
Chart placings and airplay:
He has had extensive airplay on radio stations globally including Scotland, England, Russia, Canada, Italy, Greece, Germany, Scandinavia, Holland, Belgium, Germany and South Africa. Selected chart placings include:
#5 Australian MP3 chart – 1999
#4 Neural radio dance chart (Italy) – 1999
#7 BPM chart (Australia) – 1999
#5 Alchemy club chart (Australia) – 1999
JJJ rotation. 'We can't lose' from the album 'Groove Invaders' – 2002
'Album of the Month'  ('Australien')  June 2010 on US radio's 'Musical Starstreams', an electronic music program that has been running since 1982 and  syndicated to over 200 commercial stations. Consistently dominating its timeslot it is regarded by many as the world's foremost vehicle for exposing 'exotic electronica' to a global audience.
'Top Twenty albums of the Year' ('Australien') on 'Musical Starstreams' 2010.
Selected production and performance credits:
'Carmageddon' – 1998
Recording with Josh Abrahams.
(Played keyboards. Co – produced with Josh Abrahams)
'KRK' – 1999
Remix of heavy metal act Segression.
'Homecoming' – 2006
Recording with Bernie Torme (guitarist for Ozzy Osbourne, Ian Gillan Band, Dee Snider, Atomic Rooster and GMT) and Scanner.
(Played bass, keyboards and percussion. Co-produced with Scanner.)
'Abraxas' – 2006
Recording with Bernie Torme and Rip Van Hippy.
(Played bass, keyboards and percussion. Co-produced with Rip Van Hippy.)
'Top ten served' – 2007
Remix of The Damage Manual (members of Killing Joke, Nine Inch Nails, Ministry, Pigface and Public Image Ltd).
'Butchered planet' – 2010
Recording with death metal act Martyrs Shrine.
(Vocals)